Cricket Magazine
CRICKET magazine for ages 9–14
CRICKET magazine seeks to publish the highest quality fiction, poetry, and literary nonfiction to engage our audience of enthusiastic young readers. Editors consider unsolicited submissions from writers of every level of experience. Since its founding in 1973, CRICKET has published some of the most respected writers of children's literature. It is also a wonderful opportunity for promising new writers to showcase their best work.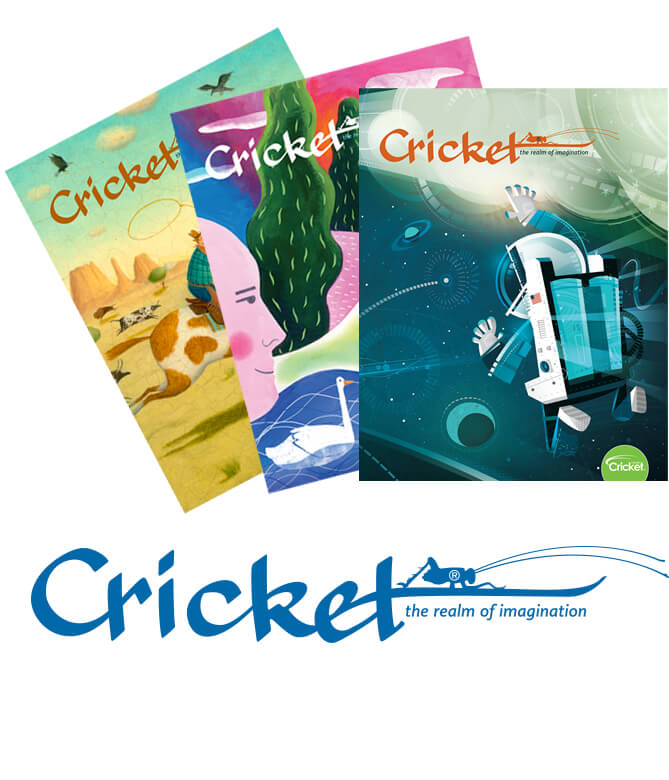 CRICKET does not distribute theme lists for upcoming issues. However, we have particular interests in stories that explore themes of identity (gender, race and ethnicity, neighborhoods, beliefs and traditions); citizenship and global cultures; scientific and technological exploration; and the creative spirit.
Guidelines
Before submitting, be sure to familiarize yourself with our magazines. (Sample copies are available for viewing at the
Cricket Media Store
, or you can order a current issue by calling 800-821-0115.) Issues are also available at many local libraries.
Fiction
CRICKET is interested in realistic contemporary fiction, historical fiction, science fiction and fantasy, folk tales, myths and legends, and humor. No matter what genre, the author should first and foremost tell a good story that is well plotted, character-driven, and has a satisfying conclusion.
Folk tales, myths, and legends, especially lesser known ones from non-Western cultures, are always welcome in CRICKET. Retold tales need to be re-imagined with the same liveliness and detail of character as original stories. Please include a bibliography of sources for retold tales.
Sci-fi and fantasy manuscripts, besides being clever and imaginative, should tell a solid story with well-drawn characters. Stories featuring adventurous main characters in the age-range of CRICKET readers are most likely to succeed. CRICKET is enthusiastic about sci-fi and fantasy with a human touch, but is not a venue for excessively dystopian or warlike fantasy stories.
Historical fiction, a mainstay of CRICKET, should recreate a world accurately but with a primary focus on an energetic plot and robust characters. While modern kids no longer attend one-room schoolhouses, plow fields, or resist Roman invasions, your story should transport them across the historical divide to identify with timeless challenges of growing up and taking on responsibilities.
Contemporary realistic fiction may be light-hearted or serious. Stories typically feature lively and sympathetic main characters within the age range of our subscribers. Protagonists tend to be curious and sincere, functioning mainly within a kid's world as they struggle to find a path through the sometimes-hilarious challenges of everyday life.
Keep in mind that CRICKET is aimed at middle-grade readers, a somewhat more protected stage than young adult. Innocent romance is welcome, but not sexual situations. Families in CRICKET can reflect the realities of contemporary life (e.g., latchkey kids, divorced parents) but not seriously disturbing situations or abuse.
CRICKET readers want to read about characters who are actively meeting their own challenges—not passively relying on the intervention of adults to solve problems of friends, family, and school. Even if not fully successful, characters in CRICKET at least progress in coming to terms with themselves and life.
Tips: A story should be a fully realized sequence of scenes and action – not just a sketch or vignette or image—with tension and dynamism between characters. Most CRICKET stories present a balance of dialogue and description. Dialogue should be natural and interesting, and avoid speechifying. Stories should "show, not tell"—that is, present scenes and reveal character through dialogue and action, not summary narration.
Stories giving our mostly American audience insight into diverse cultures are especially welcome.
Length: Most CRICKET stories are 1200–1800 words in length; however, we occasionally serialize compelling longer stories of up to 6,000 words. Submissions above this length will not be read. Authors of longer works are encouraged to submit excerpts, provided that these excerpts are under 6,000 words. We also need shorter pieces of 600–900 words.